JULY
RYE JULY
Join us in celebrating rye whiskey throughout the month of July
Discover why this stellar spirit should be your new drink of choice at NOLA Sydney!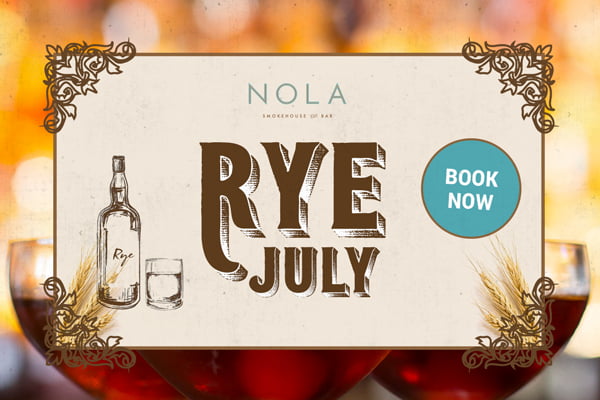 THE RED HOOK – $19
Visit our bar for Rye July to try this unique Classic American rye whiskey cocktail special. 
Wild Turkey Rye, Punt e Mes, Maraschino

Walk-ins encouraged.
RYE & CHARCUTERIE PAIRING – $120
Visit us in our French Quarter for Rye July to find out how well American rye pairs with smoky charcuterie.
Black Maple Hill Rye paired with Coppa
Michter's Straight Rye 10yo paired with Prosciutto
Old Potrero 18th Century Style Rye paired with Sopressa
Sazerac 18yo Rye paired with Bresaola
RYE & CHOCOLATE PAIRING – $85
We've teamed up with our Barangaroo neighbour OhBoo Chocolates to show you this Rye July how well fine American rye whiskeys pair with extraordinary chocolates.
Corsair Ryemageddon paired with Hazelnut & Roasted Coconut
Hudson Maple Cask paired with Salted Caramel
Catoctin Creek Roundstone Rye Cask Proof paired with Spicy Ginger Mandarin
E. H. Taylor paired with Chilli Praline
RYE MASTERCLASS – $165pp
Saturday 14th July: 1pm – 3pm
Host: Gee David (Spirits Ambassador, SouthTrade International)
Covering Rye Whiskeys from the Buffalo Trace Distillery (Sazerac 6yo, Sazerac 18yo, Thomas H. Handy, Rittenhouse, E. H. Taylor).
Covering Rye history, production, distillery information and tasting notes.
Welcome drink on arrival, as well as cheese and charcuterie selection.