1st March – 31st March
This March come down to NOLA Smokehouse and Bar for Meat March – our homage to all things meaty. This month-long mega fest has seven meaty events and offerings, with each item influenced by the New Orleans, Louisiana flavours that are at the heart of NOLA Smokehouse and Bar. As one of the most popular meats in this Southern state of the USA and at our Smokehouse, smoked and slow cooked meats play a starring role throughout.
Here's what you can expect from Meat March 2019…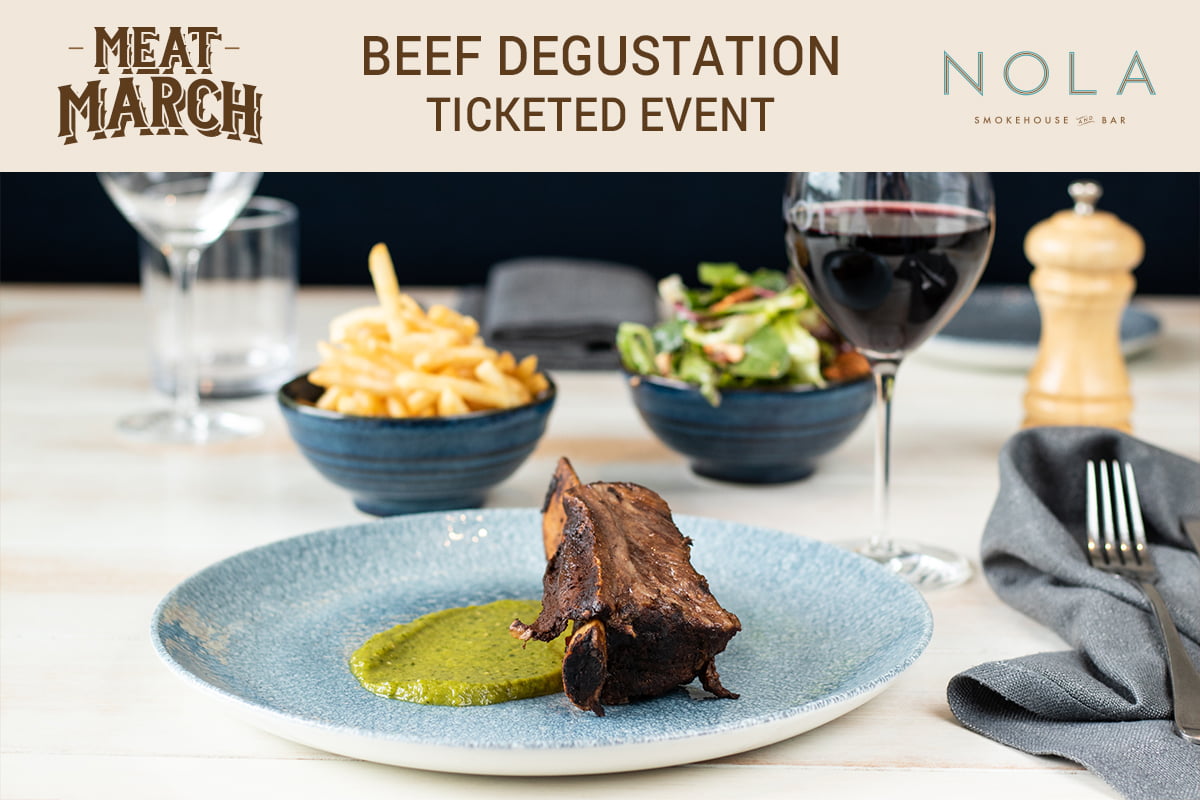 Saturday 30th March | $79pp, or $119pp with matched drinks
Throw away all notions of a stuffy event with speeches as there will be no interruptions during this lunch that caps off Meat March. Spend the afternoon meat-munching your way through a beef menu inspired by the produce, cooking techniques and flavours of Louisiana for just $79pp which includes a four-course beef menu plus dessert or $119pp with matched wines and whiskey.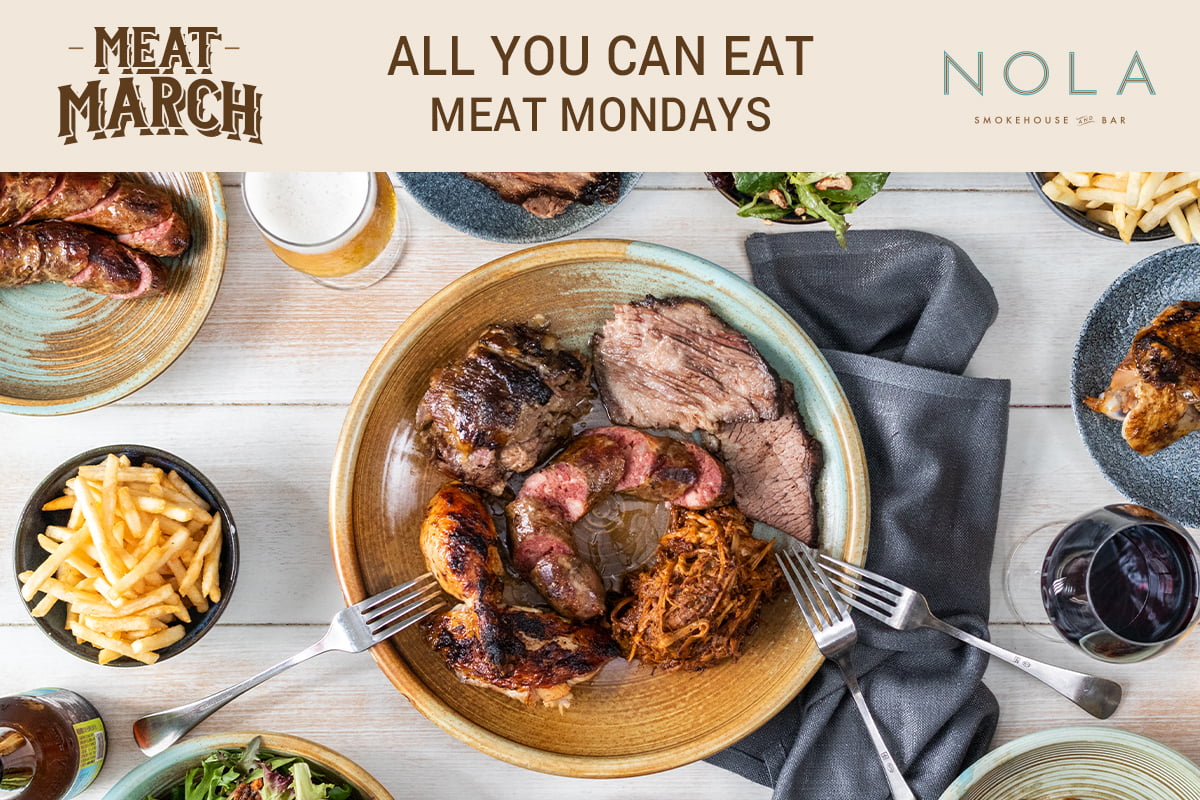 Monday 4th, 11th, 18th & 25th March | $49pp
Also known as meat-sweat Monday, today's the day you throw aside any notion of a balanced diet and make the most of unlimited, juicy meats. Available for lunch and dinner, $49pp will allow you to hoe into the likes of Rangers Valley Black Onyx brisket, slow roast pork shoulder, organic smoked and blackened chicken, BBQ Junee lamb and house-made Andouille sausage accompanied by a selection of relishes and one side each, until you can't stand the sight of meat anymore.
Diners will kick off with a shared Pit-Master's Pick plate of meats and can then continue to order as much meat as they want, in 50g instalments.

Saturday 2nd, 9th, 16th, 23rd & 30th March | $95pp
The star of this nine-dish (plus sides) shared dinner is a spectacular whole pit-roasted pork belly complete with crispy crackling. You'll kick off with entrées including lightly smoked green tomatoes with whipped pecan and goat fetta, blackened tuna with crisp rice cake and smoked avocado and Cajun-spiced lamb neck croquettes with Lexington-style BBQ sauce before tucking into the almighty roll of pork belly, covered with NOLA's house-made spice rub featuring Cajun and Creole spices and a selection of sides.
To finish, you'll share the pecan and Southern Comfort tart with salted caramel and buttermilk ice cream, eight layered Doberge cake with chocolate custard, lemon curd, whiskey syrup and soft buttercream as well as S'Mores with toasted vanilla marshmallow, dark chocolate and crisp graham cracker.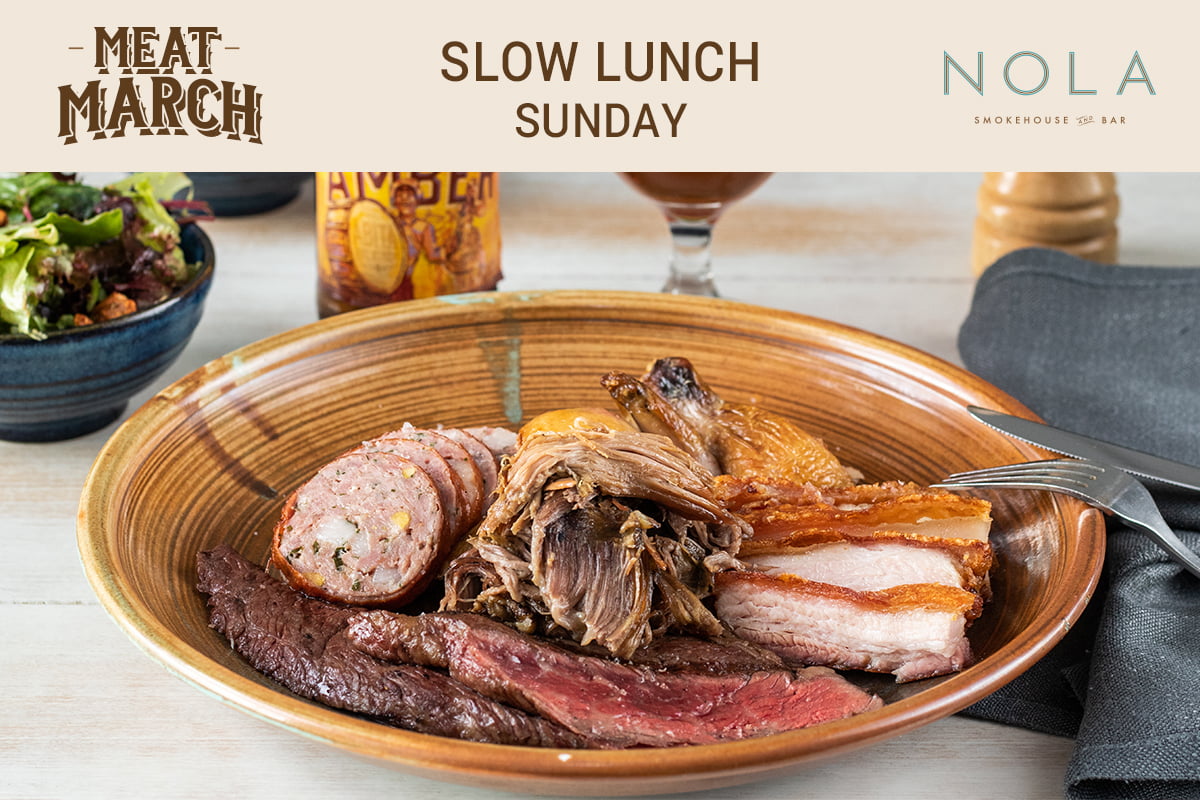 Sunday 3rd, 10th, 17th, 24th & 31st March | $49pp
If you're in Louisiana on a Sunday there's a strong chance you'll be enjoying a long lunch with an assortment of smoked and slow-cooked meats. During March, we have introduced our own Slow Sunday Lunch so you can do the same.
Each Sunday, the regular Pit-Master's Pick platter of slow-cooked and smoked meats will be replaced with a new medley of meats including roasted pork belly, BBQ poussin, Wagyu tri tip, crispy lamb neck and duck neck sausage, which includes one side per person and accompanying sauces.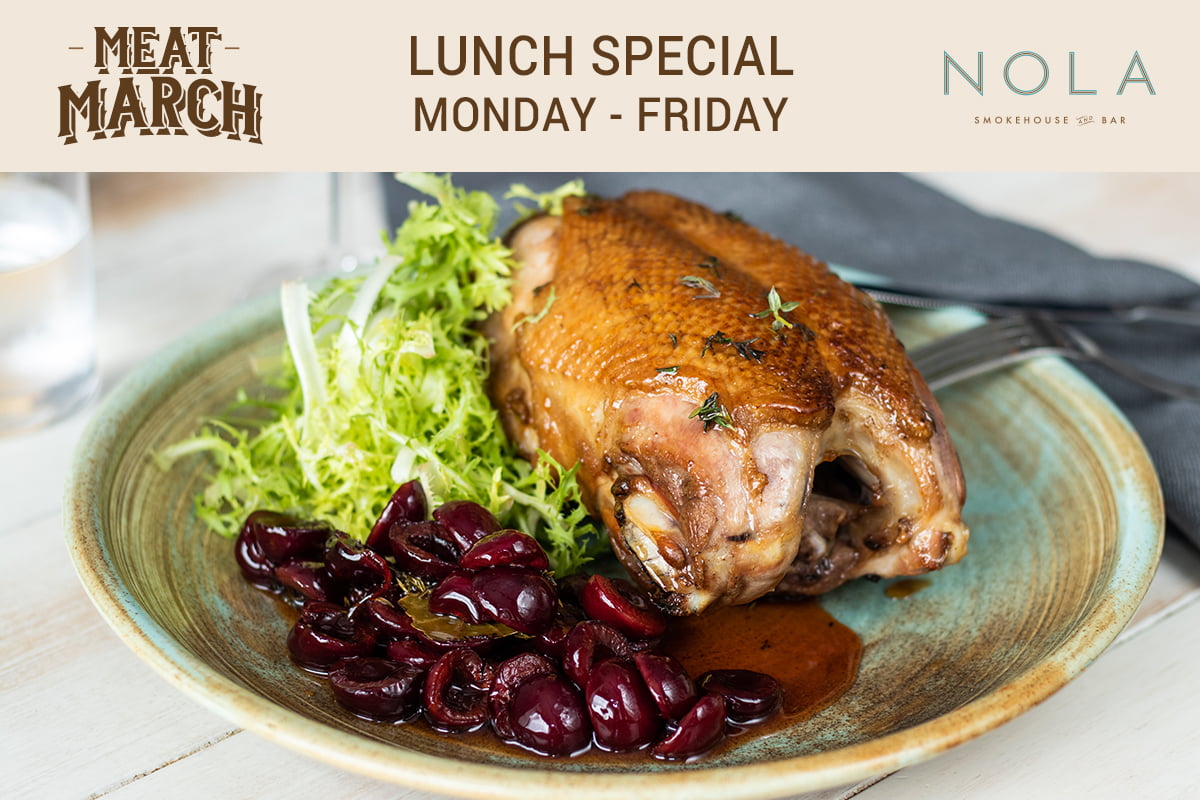 Monday-Friday throughout March | $90 (serves two)
This impressive shared lunch dish for two centres around the much-loved Muscovy Duck which is common throughout Louisiana. Grab a pal to enjoy the lightly smoked Applewood and honey-glazed whole crown Muscovy duck with sour cherries and watercress salad.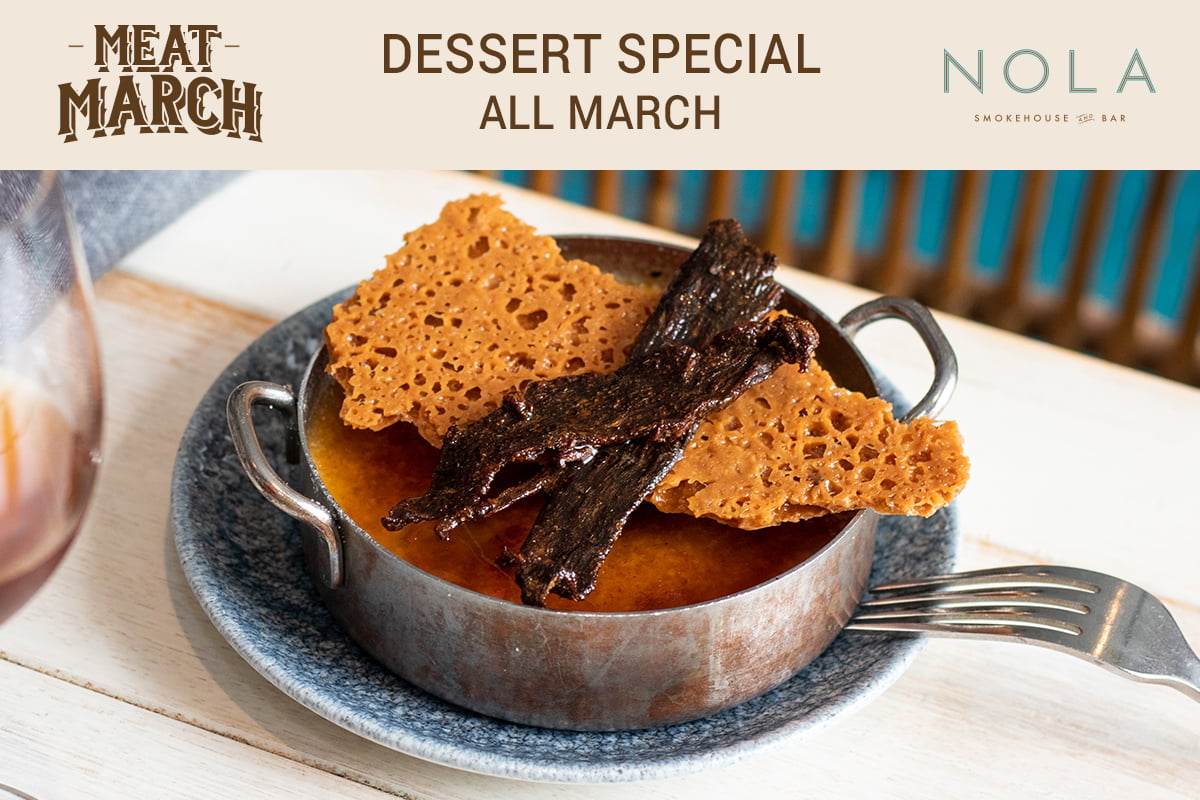 Pecan & Maple Bacon Crème Brûlée daily throughout March | $16
Picture bacon that's been brined for three days, double-smoked, coated in maple syrup, caramelised and then infused into milk for 24hrs that will be used for a crème brûlée. The result is a gorgeous, smoky, rich pecan and maple bacon crème brûlée topped with candied bacon that will fulfil all your dessert dreams and round of your lunch or dinner experience.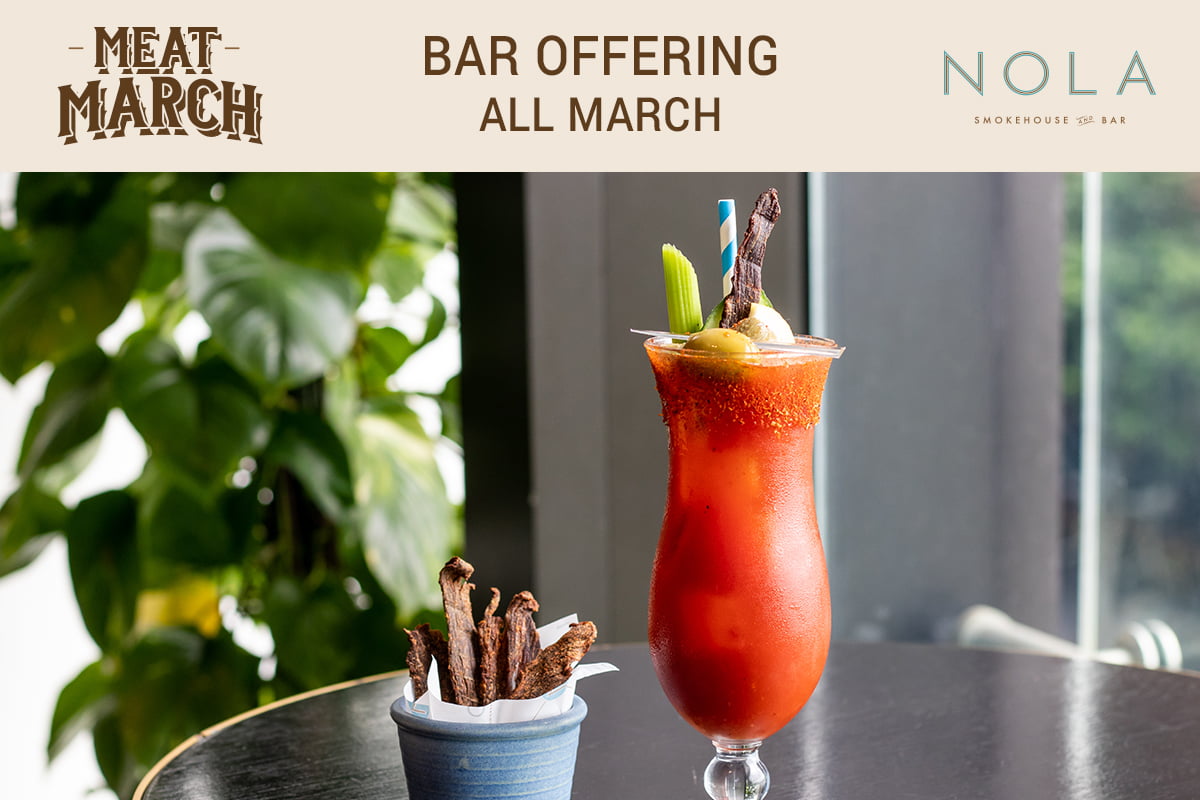 Creole Mary daily throughout March | $21
Head into our bar during March and enjoy our meat-inspired version of a Bloody Mary, the Creole Mary. Featuring house-made, bacon-infused vodka, V8 vegetable juice and a spice mix made with pickle brine, Cajun seasoning and smoked pepper relish, this spicy concoction also comes garnished with house-made beef brisket jerky.
House-Made Beef Jerky daily throughout March | $9
Meat lovers will also be pleased to know you can purchase the beef jerky as a bar snack throughout March.